Donald Trump's lawyers asked a judge Monday to narrow the protective order federal prosecutors proposed last week to prohibit the former president from publicly disclosing certain evidence gathered in the special counsel's 2020 election probe.
In a 29-page filing, Trump's attorneys called for a "less restrictive alternative" to the government's order, framing their revisions as an effort aimed at "preserving the First Amendment rights of President Trump and the public."
Trump's lawyers argued that the government's proposal was "overbroad" and instead asked U.S. District Judge Tanya Chutkan of Washington, D.C., to adopt a revised order "to shield only genuinely sensitive materials from public view."
"The government requests the Court assume the role of censor and impose content-based regulations on President Trump's political speech that would forbid him from publicly discussing or disclosing all non-public documents produced by the government, including both purportedly sensitive material and non sensitive potentially exculpatory documents," they wrote.
The filing includes proposed changes that would narrow the scope of the limitations sought by the government. One of the revisions would allow Trump to publicly disclose recordings and transcripts of witness testimony that prosecutors obtained in their investigation and are expected to turn over to the defense.
The government had proposed in Friday's filing to bar Trump from disclosing sensitive materials, defined in part as "recordings, transcripts, interview reports, and related exhibits of witness interviews." Under the Trump team's proposal, sensitive materials would be defined as "information regarding the government's confidential sources or which may jeopardize witness security."
That phrasing could require the judge to determine what would and would not pose a threat to witnesses, a process that could eat up hours of court time.
Prosecutors filed a response Monday night, defending their proposed order.
"To facilitate the efficient production of discovery to the defense, the Government proposed a reasonable protective order consistent with current practice in this District," they wrote. "The defendant instead proposed an order designed to allow him to try this case in the media rather than in the courtroom."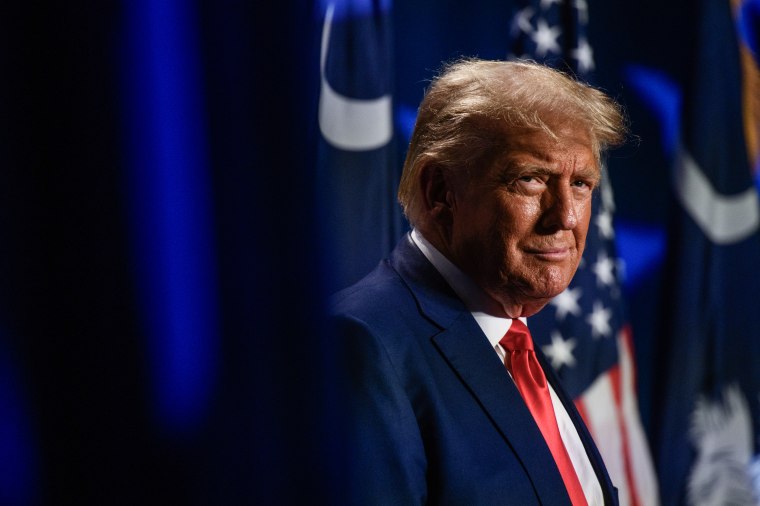 In their proposal Friday, prosecutors cited Trump's social media posts in asking Chutkan to prohibit him and his defense team from publicly disclosing certain evidence. One of the posts was from Trump's Truth Social?page?Friday afternoon; it read: "IF YOU GO AFTER ME, I'M COMING AFTER YOU!"
Trump's disclosure of details or grand jury transcripts "could have a harmful chilling effect on witnesses or adversely affect the fair administration of justice in this case," prosecutors argued.
In their filing Monday, Trump's lawyers argued that the social media post was "generalized political speech, not directed to this case."
"The Proposed Order, even as drafted by the government, would not prohibit the post," they wrote.
Chutkan had ordered Trump's attorneys to respond to the government's proposal by 5 p.m. ET Monday.
In an order Monday night, Chutkan indicated she plans to hold a hearing on the competing proposals before the end of the week. She asked that by 3 p.m. Tuesday both sides put forward two dates and times on or before Friday for a hearing on the issue.
Trump was?arraigned last week on charges that included conspiracy to defraud the U.S. He pleaded not guilty and has publicly condemned the allegations.
Earlier Monday, Trump suggested on Truth Social that Smith was trampling his First Amendment rights and described Chutkan as Smith's "number one draft pick," demanding her recusal.
The indictment noted Trump's First Amendment right to "speak publicly" and make false claims about the election and to challenge the results through "lawful and appropriate means," such as recounts or lawsuits. But it sought to differentiate such speech from "unlawful means of discounting legitimate votes and subverting the election results."
Chutkan, an Obama appointee who once rejected Trump's request to stop?the House Jan. 6 committee from obtaining White House documents from his administration related to the Capitol riot, was randomly assigned to oversee proceedings in the 2020 election case.
She is expected to schedule a trial date at a hearing set for Aug. 28.
The election case is one of two where Smith has secured an indictment of the former president. Trump was previously arraigned, and pleaded not guilty, over his handling of classified documents after leaving the White House. In a superseding indictment, to which he also pleaded not guilty, Trump was accused of playing a role in a scheme to obstruct the ongoing investigation.
The judge in that case — Aileen Cannon, a Trump appointee — issued an order Monday that questioned the use of grand juries in Florida and Washington and told federal prosecutors to "address the legal propriety of using an out-of-district grand jury proceeding?to continue to investigate and/or to seek post-indictment hearings on matters pertinent to the instant indicted matter in this district." She gave the Justice Department an Aug. 22 deadline to respond.
Cannon has already?issued a protective order?in the classified documents case. In it, she prohibited Trump from disclosing on social media — or keeping — evidence the government is set to turn over to him in the classified documents case.
A similar protective order was?issued?in New York, where Trump faces charges over falsifying business records stemming from hush-money payments made during the 2016 presidential campaign. He has pleaded not guilty to those charges.