Former President Donald Trump has the option of timing his booking in Georgia to coincide with next Wednesday's first Republican presidential primary debate in Milwaukee, which could suck the oxygen out of a televised event he's been advised to avoid anyway.
Put another way, it's not at all hard to imagine Trump turning his jailhouse arrival into an O.J.-Simpson-in-the-Bronco-level spectacle at the same time Florida Gov. Ron DeSantis is telling the debate audience about how he lowered the state's pension assumptions.
The potential to embarrass the Republican National Committee, which is hosting the debate, and Fox News, which is airing it, could make a jailhouse counter-programming opportunity all the more alluring to Trump at a time when his relationships with those pillars of the conservative establishment are strained.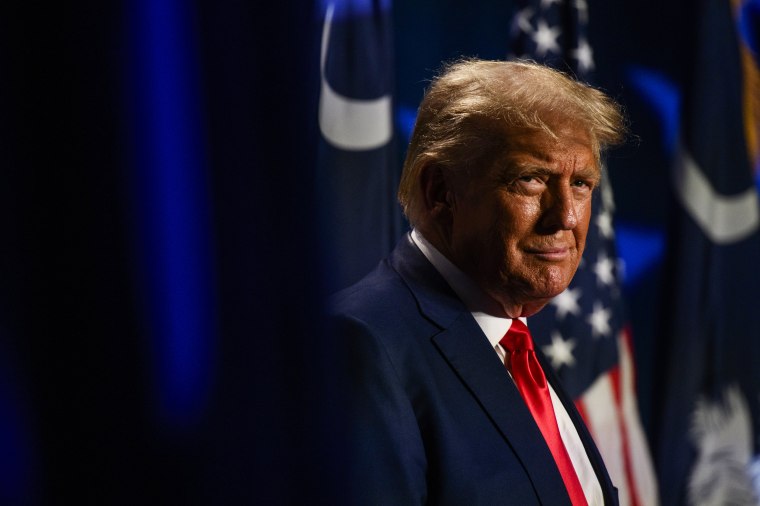 And, as Trump's legal troubles and poll numbers have risen in tandem over the last several months, diverting attention from the debate to his latest indictment makes all the sense in the world, Republican operatives say.
"That'd be smart," said one former senior Trump campaign aide.
Trump, indicted on Monday for the fourth time this year, has asked crowds in recent weeks whether or not he should debate, revealing publicly the tension between his desire to directly engage with his primary opponents and his advisers' reservations about the risks of going toe-to-toe with them at a time when he dominates the primary polls. Executives at Fox News dined with Trump earlier this month and lobbied him to attend.
"There's no reason he should debate," the former aide said, referring to the nothing-to-gain stakes for Trump, who consistently leads the pack of Republican contenders by more than 30 points in national polls.
At the same time, it would be out of character for Trump to skip the debate without finding a way to eclipse it. He has until Aug. 25 to voluntarily surrender for booking in Atlanta after a Fulton County, Georgia, grand jury on Monday indicted him and 18 others on charges related to his efforts to overturn his 2020 election defeat.
If he turns himself in to be booked on the day of the debate, he is certain to draw attention away from the stage — even as his legal woes become debate fodder for his opponents, according to several Republican elected officials, operatives and strategists.
"Let's be honest, next week's Republican presidential debate is little more than a formality," said state Sen. Joe Gruters, a former chairman of the Florida GOP and the only Florida state legislator to endorse Trump.
"As the polls reflect, the GOP base is fully supportive and behind President Trump," Gruters said. "If scheduling his arrival in Fulton County on the same night as the debate further shines a spotlight on the political persecution, I'm all for it."
Trump's rivals are preparing for him to be a focal point whether or not he shows up, advisers to other candidates have told NBC News in recent interviews. But some aides and allies of other candidates say they don't expect Trump to overshadow an event that is circled in thick ink on the GOP calendar.
"The debate stands on its own," Bill Palatucci, a Republican National Committee member who runs a super PAC backing former New Jersey Gov. Chris Christie, said. "Primary voters are junkies for this, so they will be tuning in for the debate no matter what."
That could give Trump an added incentive to wait until after the debate to turn himself in, possibly snuffing out new momentum for an opponent, said one source close to Trump world.
"He should do it the day after the debate to suck up all the post-debate coverage," said the source, who was not authorized to share such observations on the record. "That way even if another candidate has some sort of 'moment' at the debate, it falls into a black hole, press-wise."
Trump hasn't tipped his hand yet, and aides note there are multiple stakeholders involved in decisions about when he might appear in Atlanta to be booked and when he might be arraigned.
"It's all up to the lawyers and the court and the Secret Service," one Trump aide said.
The timing won't change the predicament faced by candidates competing to peel off some of his voters: every time he is indicted — four times now since late March — they find themselves standing up for him. Typically, they portray the charges he faces in a partisan light, accusing Democrats of trying to win the next election by prosecution.
"I think it's an example of this criminalization of politics," Florida Gov. Ron DeSantis, who is polling second to Trump in most national surveys, said during a virtual news conference with New England media on Wednesday.
A handful of Republican hopefuls —?including former Vice President Mike Pence, Christie and former Arkansas Gov. Asa Hutchinson — have criticized Trump's conduct in trying to overturn the 2020 election. But none of them has fared as well in national polls as DeSantis or Ramaswamy. And none of Trump's rivals are within 30 points of him in recent surveys.
In that way, Republican insiders say, it makes sense that he will get a lot of attention on the debate stage and off it —?no matter when he turns himself in or whether he joins his rivals on the stage Wednesday.
"Hard to suck the oxygen out of the room when you are the oxygen in the room," Iowa state Rep. Austin Harris, who is backing former South Carolina Gov. Nikki Haley, said to nod to the central role Trump will play in the debate regardless of whether he is there.
Rival camps know there's little they can do to compete with Trump's media footprint if he shows up at the county jail on debate day.
"It will dominate earned media," said one aide to another candidate, who predicted there will be "a question or two about it" at the debate.
But the aide played down the impact on the debate and the race.
"Don't overthink it," he said, adding that the latest charges don't "change the long-term trajectory" of the Trump indictment storyline.
Some hoped that Trump being too busy getting booked to debate would give the rest of the field an opportunity.
Former Rep. Barbara Comstock, R-Va., said Trump's timing his surrender to police as the same time as the debate would "give opportunity to Christie — the prosecutor — to whack him."
The worry for the rest of the Republican field is that nothing will change the trajectory of the campaign.
"Trump is still the presumptive nominee despite all the stuff hanging over him, and these guys can't lose sight of that," veteran GOP consultant Scott Howell said of the other campaigns. "They still have to leapfrog him. Everyone needs to remember that."