Maui County's emergency management administrator on Wednesday defended the decision not to sound warning sirens in a wind-whipped wildfire that swept into the town of Lahaina, Hawaii.
Asked at a news conference whether he regretted not having sounded the sirens, Maui County Emergency Management Agency Administrator Herman Andaya replied, "I do not."
Questions have been raised about warnings in the wildfires, which are confirmed to have killed 111 people so far and devastated the town.
Sirens, located mostly by the coastline, are primarily used for tsunamis, Andaya said.
"The public is trained to seek higher ground in the event that the siren is sounded," he said.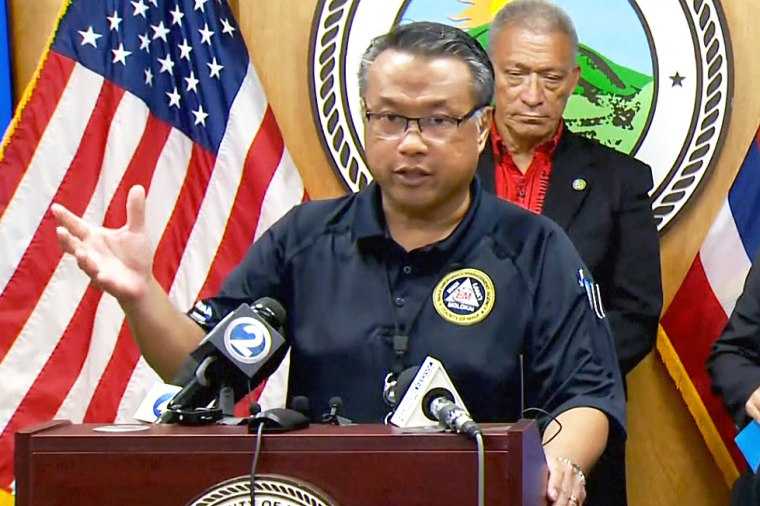 "Had we sounded the siren that night, we were afraid that people would have gone mauka," Andaya said, using a word meaning "to the mountainside." "And if that's the case, then they would have gone into the fire."
The Maui County website about testing of the All-Hazard Statewide Outdoor Warning Siren System lists wildfires as among the hazards for which they can be used, as well as hurricanes and volcanic eruptions.
"Counties in the state of Hawaii will tell you that sirens have not been used for brushfires," Andaya said.
He said the agency's protocol had been to use two other systems — Wireless Emergency Alert and the Emergency Alert System. They deal with text messages to phones, as well as messages through television and radio.
People in West Maui have said the power was out before the wildfire erupted. Winds gusted at around 60 mph and more on Aug. 8, when the fires began. Power lines had been knocked down, officials said.
"They didn't give us no warning. No nothing," Lisa Panis, a resident of Lahaina, said in a phone interview last week. "No siren, no alarms, no nothing."
A cause of the wildfire has not been determined. The fire that devastated Lahaina was one of three that erupted on the island that day, officials have said.
Hawaii Attorney General Anne Lopez has said her office will?conduct a "comprehensive review?of decision-making and standing policies" before and during the wildfires.?
Gov. Josh Green said Wednesday, "We view this as a way to learn and to share, in this case from our tragedy, to share how to best protect people across the planet."
Some members of the state Senate are also calling for an independent third-party review.