Lizzo's former dancers who sued her alleging a hostile work environment and sexual harassment say abuse against background dancers is an industrywide issue and they hope they're starting a movement to change it.
Crystal Williams and Noelle Rodriguez, two of the three former dancers who filed the suit, explained why they decided to take legal action in an interview with the British TV news channel Sky News on Monday afternoon.?
"I think our biggest reason in coming forward with this is to just kind of give people a voice and let them know you can stand up for yourself and speak out, no matter the caliber of artist or status that the person may have that you're speaking out against," Rodriguez said.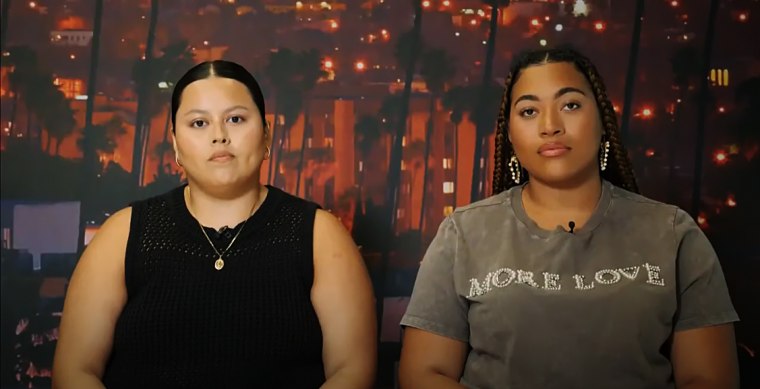 The women spoke out days after Lizzo called the allegations in their suit, which was first reported by NBC News, "false."
"Usually I choose not to respond to false allegations but these are as unbelievable as they sound and too outrageous to not be addressed," Lizzo, whose real name is Melissa Viviane Jefferson, said on Instagram on Thursday.
Rodriguez said Lizzo was right to characterize the lawsuit's claims as "outrageous" because what the dancers experienced on her team was just that.
"We were shocked by all of these things that happened to us," she said. "Unfortunately this treatment by management, artists, it's normal in the entertainment industry but it sounds so outrageous because I feel this is the first time something like this is being brought to light so publicly."
"So yes, it's outrageous, yes all of these claims seem outlandish. But these are our experiences and this really happened to us. Just to deny and victim-blame and not even take accountability ... it's just so insensitive and kind of invalidates our experience as a whole," Rodriguez added.
Williams expressed her disappointment with Lizzo's statement, saying it "is just confirming the pattern of every time somebody speaks up or advocates for themselves, like we're doing now, we get victim-blamed, we get gaslighted, and she likes to point the finger instead of addressing the issues that are brought up."
She said the kind of treatment the dancers were subjected to "happens on an everyday basis, sadly."
Since filing the lawsuit, the women said they've seen other dancers come forward.
"We've experienced not only dancers who have worked with [Lizzo] directly, but dancers that are just in the entertainment industry in general. They've already come out and they've shared their stories. They feel brave enough to share their experiences. And so that within itself to me is already starting a movement," Williams said.
"Before, people were just silent about it, they didn't feel comfortable enough, they didn't feel protected enough to call these artists out, call these management teams out and let them know 'Hey, what you're doing is wrong.'"
The suit,?filed in Los Angeles Superior Court, alleges that Lizzo pressured one of the three plaintiffs to touch a nude performer at an Amsterdam club, subjected the dance cast to an "excruciating" audition after falsely accusing them of drinking on the job, and of calling attention to one dancer's weight gain. Further, the suit claims that the star fired a dancer after she recorded a meeting due to a health condition.?
Attorney Ron Zambrano, who is representing the dancers who filed the lawsuit, said in a statement Thursday: "Her denial of this reprehensible behavior only adds to our clients' emotional distress."
Marty Singer, an attorney for Lizzo, called the lawsuit "specious," a "sham" and "without merit."?