Witnesses say a large brawl that broke out on an Alabama riverfront Saturday was fueled by alcohol and adrenaline.?
Bystanders said the incident began when a worker tried to clear the dock along the Alabama River so the Harriott II Riverboat could dock. A group of rowdy boaters refused to move their pontoon and attacked the dock worker when he untied the boat to make way for the Harriott II.
"They just didn't think the rules applied to them. It was so avoidable. This never had to have happened," a witness, Leslie Mawhorter, 52, who was aboard the Harriott II, said in an interview. Video of the incident shows a group of what appear to be white men running to the boardwalk one by one and attacking the worker, who is Black.?
The man who was initially attacked and the people involved in the fight have not been publicly named.?
"Everything just spiraled from there," Mawhorter said. "I knew something was going to go down, because their attitude was just, 'You can't tell us what to do.' They were going to be confrontational regardless of who you were."?
A spokesperson for the city Parks & Recreation, which oversees the riverboat attractions, declined to comment. The Montgomery Riverfront is a popular summertime destination with a riverboat, a park, an amphitheater, a stadium and more.?
After the initial attack, several people appeared to rush to the worker's defense, one of them even swimming from the Harriott II over to the dock to take part in the brawl. Mawhorter said officers turned to the onlookers for help identifying the aggressors. "They were listening to us and to other people telling them who was involved and who needed to be cuffed," she said.
Montgomery police had multiple people in handcuffs by the end of the melee, which started shortly before 7 p.m., and there were at least three active warrants for people believed to have been involved afterward, according to NBC affiliate WSFA.
Mayor Steven L. Reed said in a statement Sunday: "The Montgomery Police Department acted swiftly to detain several reckless individuals for attacking a man who was doing his job. Warrants are being signed and justice will be served."?
He reiterated his response at a news conference Monday, calling the fight "an unfortunate incident." He said police are still investigating.?
Christa Owen, 47, was on the Harriott II with her husband and their daughter when the fight began. She and Mawhorter said they and the other passengers had been waiting several minutes for the group to move their pontoon and allow the Harriott to dock. Owen said the worker who was attacked was initially the only crew member trying to handle the rowdy boaters.
"What was hard is we were all on the boat and witnessing our poor crewman being attacked by these guys, and we couldn't do anything about it," Owen said. "It was really difficult to watch, and, like I said, we felt helpless, because we were forced to be spectators."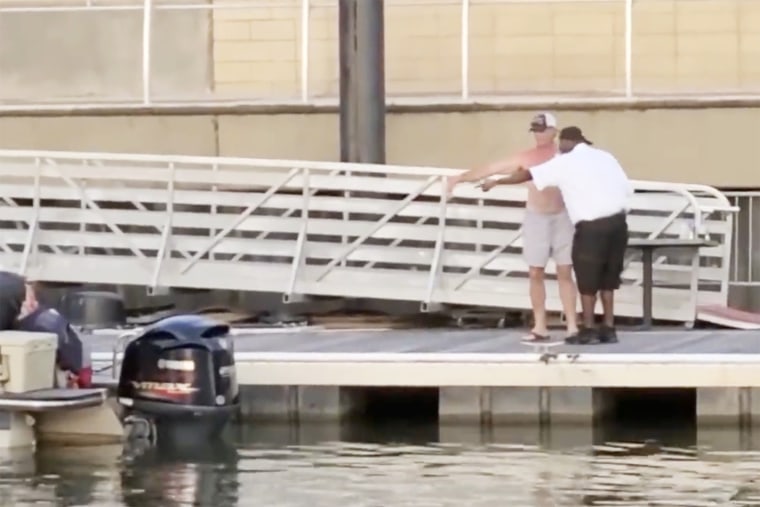 Owen said she decided to record the incident to make sure the "right people" were arrested. Her and Mawhorter's videos were among many that began circulating on the internet. Many social media users have shared memes and colorful commentary, noting that the combatants were split along racial lines. Many praised the group of Black men for coming to the Black worker's defense as he battled the group of white men.?
"It was inexcusable behavior," Owen said, adding that she believes alcohol was a factor. "I can't imagine anyone just disregarding moving their boat 2 feet so that a three-story dinner cruise boat could park back in that spot."
CORRECTION (August 8, 2023, 11:12 a.m. ET): An earlier version of this article misstated the day that the incident took place. It was Saturday, not Sunday.