When Ryan Cabrera, a 37-year-old Native Hawaiian who lives in Lahaina, found himself surrounded by smoke on Tuesday, Aug. 8, he grabbed his daughter's hand and just ran. Long term, he knew he lost everything in an afternoon. In the immediate aftermath, he didn't know where his family would sleep that night.?
Meanwhile, Joshua Wang, 53, a tourist in Maui at the time, said he was able to book a same-day flight for his kids after wildfires tore through the island — and retrieve his valuables from his hotel room before most Lahaina locals were allowed to return.?
While thousands fled from the largest climate disaster in Hawaii's history, several firsthand accounts from the evacuations that day reveal two distinct stories: one of Native Hawaiian locals who faced confusion, loss and limited resources as their homes burned to the ground, and another of wealthy tourists with the means to reach safety, secure a place to stay in some cases and leave the devastation behind them.??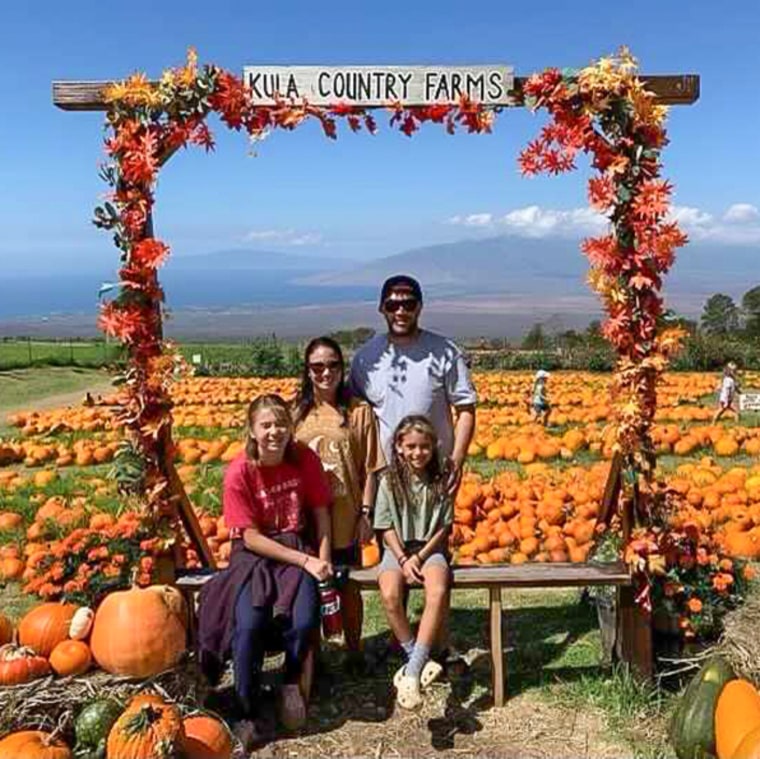 The fires have been mostly contained, but the death toll has reached 106 as of Tuesday, with numbers expected to rise. Officials have begun identifying the dead, releasing two names — Robert Dyckman, 74, and Buddy Jantoc, 79, both of Lahaina — thus far. Many others remain missing.?
"This is not our playground," said Monique Ibarra, executive director of Ka Hale a Ke Ola Homeless Resource Centers, the largest homeless service provider on Maui. "We're going through this significant tragedy on our island and then there's tourists who might be at the beach, having fun with their families and laughing it up."?
Cabrera said that as his family eventually got into a truck after racing through several neighborhoods, and were brought to the hotel area of the island, it was immediately evident that they were about to process the tragedy in a wildly different way than the tourists.
I think the biggest worry was when we have bodies in that ocean that still had not been discovered, and for us to see them snorkeling when we still haven't retrieved all our dead — that was hard.
— Pakalana Phillips, a Native Hawaiian Longtime resident of lahaina
"I was covered in dirt, ashes, my eyes, my mouth, everything. I was just so thirsty," Cabrera, who entered a hotel in search of water, said. "And there were hundreds of tourists drinking, having fun and not even caring."?
Cabrera said the family initially attempted to drive out of his neighborhood, but black smoke surrounded the vehicle. They made a split-second decision to ditch the truck and run. By the time the family arrived at the next neighborhood, the fire began encroaching the area "within minutes," he said.
"My daughter's face. I'm never going to forget that … She was looking at me like, 'Daddy, are you going to save me?'" he said. "I was literally dragging her. Her knees got cut up. Her foot got cut up. I was just holding her tight."
A toll on low-income families living in multigenerational homes?
Pakalana Phillips, whose house had been passed down through four generations before it burned to the ground, said that for many low-income, Native Hawaiian families like hers, the recovery process involves metabolizing "multiple layers of loss."?
According to a 2022 report on financial insecurity in Hawaii, 27% of Native Hawaiians were considered "asset limited, income constrained, employed," surviving below the basic cost of living in the state. The racial group also has the highest levels of poverty in the state, across all major ethnicities, and are twice as likely to become homeless.?
Some of the neighborhoods hit hardest were ones that housed primarily working-class families, who have long lived in Lahaina and will have to face down both potential displacement from the town forever and anguish from losing their loved ones, Phillips, 47, said.?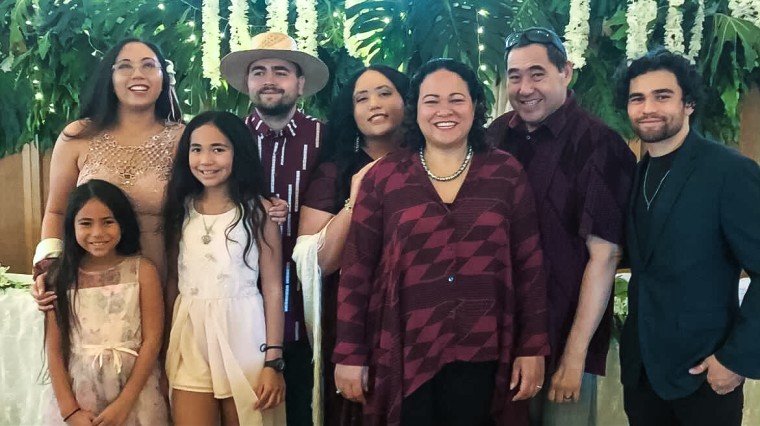 Phillips, who had left her home earlier that same Tuesday, said her uncle, one of eight in the household, had stayed behind. He was on the phone with her mother-in-law as flames surrounded their house.?
"He said he was going to get stuck in there," Phillips said. "The phone hung up and disconnected."?
An emotional Phillips said she has been mourning her uncle's death while dealing with "survivor's remorse."
"If we were home, he could have gotten out," she said. "But then there's also the reality of if we were home, we would all die."?
The islanders, of course, are looking to get back to their homes to see if their pets are alive, to see if their house has completely burned down. We were looking to go back just to get some stuff.
— Joshua Wang, a tourist who fled the fires
The economic devastation, she said, has also been difficult, making her family's future in the town uncertain. Prior to the fire, many family members from low-income households lived together to try to meet astronomical mortgage payments, Phillips said. With everything reduced to ash, she said she fears that families who want to rebuild will face an uphill battle, particularly as many job prospects in the area dwindle, and that many will not receive sufficient financial support.?
A tourist family with elite airline status gets out of Lahaina?
Joshua Wang had been visiting from New Jersey with his kids, his in-laws and his 3-year-old nephew before the fires blazed through Maui. After visiting the east side of the island, they discovered the roads back to their hotel were closed, forcing the family to sleep in their two cars. They woke up to devastation worse than they could have imagined, he said.?
Using a high-status membership with United Airlines, they booked a flight for that same afternoon, and Wang sent his nephew, sister-in-law, mother-in-law and two kids home.?
United Airlines confirmed to NBC News that MileagePlus members are given priority on standby flights.??
Wang, his brother-in-law, his wife and his father-in-law stayed to try to retrieve their valuables and medications from the hotel — which they were able to do the next day.?
On Thursday, Wang and his family went back to the checkpoint and told a police officer they were resort guests who had valuables in their room.?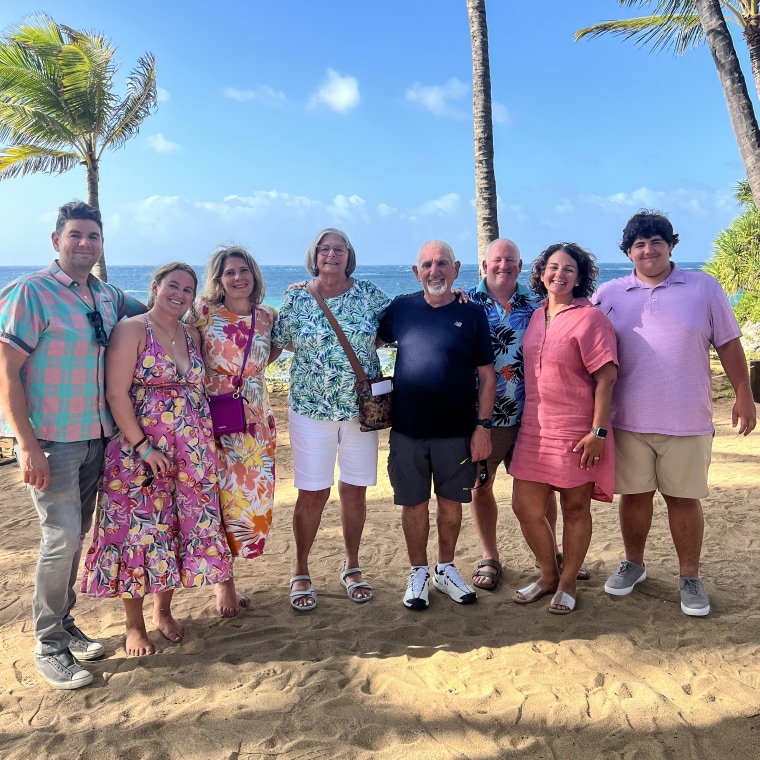 ?"The officers explained … that there is a special list for people staying at the resorts that have extreme valuables or hard-to-find medication," he said. Police gave them a number to call, and after a few hours of waiting, Wang and his family were let through onto Lahaina Bypass with the condition that they would be back in two hours, he said.?
The Maui Police Department did not respond to NBC News' request for comment on the checkpoint procedure, but a news release on its website from that same day said all unauthorized travel into Lahaina was prohibited.??
Two days later, on Saturday, another news release announced partial access into West Maui. It wasn't until Tuesday that the road to Lahaina was fully open.?
In the days afterward, Cabrera said, when Lahaina families attempted to return to their homes, assess what was left of their belongings and document the damage, he saw tourists clog up the roads to take pictures of the wreckage.?
"While the community's trying to get goods in, they're stopping on the bypass taking pictures, taking selfies and messing things up," he said.?
Phillips said she's encountered many empathetic tourists in the past few days, but there have also been those who have ignored the community's loss.??
"I think the biggest worry was when we have bodies in that ocean that still had not been discovered, and for us to see them snorkeling when we still haven't retrieved all our dead — that was hard," Phillips said through tears.
Meanwhile, a homeless shelter evacuates and relocates 200 people
Monique Ibarra, whose organization's Lahaina shelter was lost in the fire, said a lack of funding and resources has long plagued the town's Native Hawaiian community.?
While Native Hawaiians make up roughly 10% of the Lahaina community, one-third of the organization's resident population is Native Hawaiian. During the evacuation, staff scrambled to pack tenants into vehicles and get out of the area. She said while the first challenge was ensuring that all evacuated to safety, the next was securing shelter for some 200 Lahaina tenants. Staff fixed up units in an affordable rental complex and made space at their Wailuku location, she said.?
"We had units that weren't even ready for people to move in," she said. "So we had staff and we had tenants in a unit trying to clean it up and get it so people could stay there. It was just really amazing."
Ibarra said, however, that days later she was tasked with breaking the news that the Lahaina shelter hadn't survived the fires.?
"They were just crying. They were just so devastated," she said. "It's just a horrific loss in their life for people that already hardly have anything."?
Tourism is a large part of the local economy — but can exacerbate disaster situations
In any disaster situation, more people mean more complications, said Jerry Agrusa, a professor of travel industry management at the University of Hawaii at Manoa. Especially in Maui, a small island with a few main roads, travelers' confusion and panic can easily cause chaos.?
When our people are no longer able to get into their homes they have passed down from generation to generation, then you have lost Lahaina forever.
— Pakalana Phillips
"First of all, they don't know where to go, even if it's not a disaster," he said. "Imagine when there's a disaster or crisis."
Maui receives hundreds of thousands of tourists a month, Agrusa said, and they tend to stay longer than on other islands. Lahaina gets particularly congested, with one way in and out, he said.
When there are tourists on the island, the hospitality industry has to meet them, he said. Hotel staff have to stay on the job, sometimes at the expense of their own needs.?
"Even though they're worried and concerned about their own family, they're going to take care of the guests," he said. "Now, how do you take care of the guests when there's a fire like this? It's unprecedented. So you just try your best to try to keep them safe."
It's only been a week since the disaster, Agrusa said, but he foresees it affecting livelihoods across the island. And eventually, he said, people will want their lives to go back to normal.?
Even in areas of Maui not affected by the fires, a dearth of tourism will cause locals to lose jobs, he said. But as the island feels the fresh wounds of the disaster and search-and-rescue efforts continue, he advises travelers to pick another place to go, even within Hawaii.?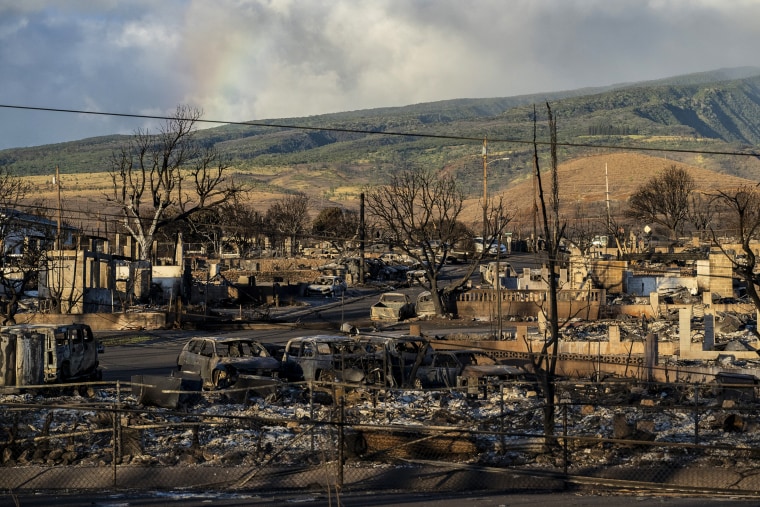 "Do we want you to go to Maui as a tourist? Yes, but not now," he said. "There are already too many people needing support."
Wang reflected on the tensions he had seen between tourists and locals at the roadblocks and said he feels for those who couldn't get out so easily.?
"The islanders, of course, are looking to get back to their homes to see if their pets are alive, to see if their house has completely burned down," he said. "We were looking to go back just to get some stuff."?
Phillips said that while the fire marked the first tragedy that the community has had to face, the loss will be compounded if Native Hawaiians, who have lived there for generations, are not prioritized.?
"The people are what made that place so special. It's not the palm trees. It's not the beaches," she said. "When our people are no longer able to get into their homes they have passed down from generation to generation, then you have lost Lahaina forever."